This article explains Edinburgh Connections Networking Event Ticket Types
You may not be aware but Edinburgh Connections is an independent business organisation, funded primarily by our members. You can attend 1-2 events as a non-member and then you will be invited to join Edinburgh Connections. If you prefer to stay as a non-member, you can still join our events but with some limitations. We use members' fees to invest in our facilities to build an effective networking and matchmaking system.
In order to promote our events and invite guests, we have introduced 3 ticket types. This article explains these in more detail.
There are three types of Edinburgh Connections Tickets to choose from
EC Member FREE Ticket.
Non-Member Guest FREE Ticket.
Non-Member PAYG Ticket.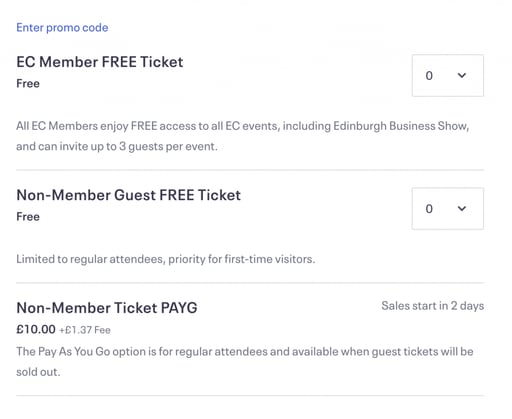 EC Member FREE Ticket
Priority Registration with free or heavily discounted rates for members and guests. All Edinburgh Connections Members enjoy FREE access to all Edinburgh networking events and can invite up to 3 guests per event.
Non-Member Guest FREE Ticket
We love to welcome 1st-time visitors so if you have never been to one of our events this option is for you. We prioritise non-member free tickets for 1st-time visitors, so if you have attended a few of our events already, we may offer you a Non-Member PAYG Ticket (see below)
Non-Member PAYG Ticket
This option is designed for our regular attendees who are not yet Edinburgh Connections members. Pay As You Go tickets become available once all the non-member guest free tickets have been allocated. Ticket cost varies from £10 and fees for Coffee Networking up to £50 and fees for all-day events in Edinburgh.
In most cases, we use Eventbrite to manage our events. We suggest that you open an Eventbrite account so you can store your tickets and invoices and speed up the booking process.