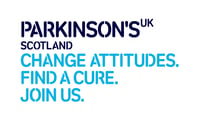 Around 12,400 people have a diagnosis of Parkinson's in Scotland. That is about 1 in every 375 adults. And this number is growing.
This year another 1500 people will be diagnosed with Parkinson's – about 30 people each week.
About half of people live with more advanced Parkinson's. This means that symptoms are complex, and medication does not manage them effectively.
Parkinson's affects people of any age. In Scotland, almost 1 in 6 is aged under 65 while 1 in 3 is aged over 80.

Our Work
We're on a mission to change attitudes, support one another and find a cure. Our small staff team and more than 300 volunteers are based in communities across Scotland, and we work together to improve lives for everyone affected by Parkinson's.

Fundraising
Individuals, Corporates, Community organisations and Trusts all contribute to making it possible for us to fund our world-leading research and provide vital local services.
We have a team of fundraisers in Scotland who provide professional fundraising support to our donors to help them with their fundraising requests. We also organise activities such as our walks series and challenge events as well as social events throughout the year which provide fun and well-organised opportunities for supporters to join us and raise funds.
I have over 15 years experience in the third sector as a professional fundraiser and enjoy supporting our volunteers and supporters with their fundraising needs. I have experience across the sector not just in Community Fundraising but within Events, board level and with Partnerships with both small and large national companies meaning I can give advice, direction and support to all involved in supporting the charity.

We are Parkinson's UK. Powered by people. Funded by you. Improving life for everyone affected by Parkinson's. Together we'll find a cure.
We are looking for Companies who are looking to support a charity either with a donation, charity of the year partnership, gift in kind or sponsorship. Individuals looking for a challenge or local groups and organisations such as golf clubs, rotaries, etc


Contact Member
Contact Details
Marion Pirrie
Tel: 03442259857