Request Event Invite


Sign up to Event Alerts
Engage in our Community
Bringing Business & People Together
We believe that big opportunities can arise from little conversations.

We'd like to invite you to sign up to our event alerts so we will be able to send you exclusive invitations for our business events in Edinburgh.

No spam, no sales emails. Promise! You can unsubscribe at any time

Colin & Bart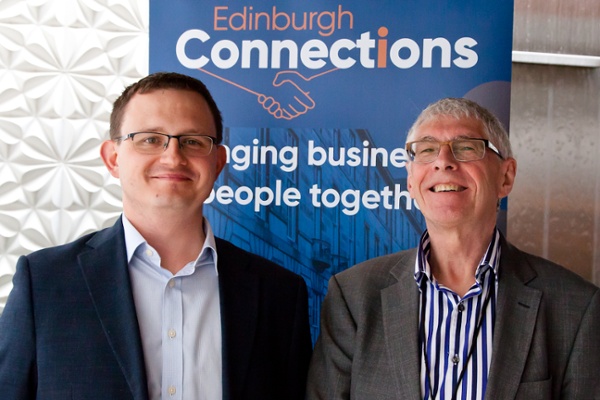 Colin & Bart
Co-founders & Directors
We are an Independent Business Membership Organisation. We help local, growth-oriented entrepreneurs and individuals to achieve business and professional goals by connecting with one another.
Can I unsubscribe from Event Alerts?

Yes, you can unsubscribe from all emails at any time by clicking the unsubscribe button in each emailing footer.

Is it safe to provide my email address to Edinburgh Connections?

Data Security is very important to us. We store all email addresses in our HubSpot CRM, learn more about HubSpot data protection.

We are also registered in ICO: Download ICO Certificate for Edinburgh Connections Ltd

Your email won't be shared publicly except for the purpose of event and marketing promotion from our trusted partners and members.

How big is your database?

Our database consists of business owners who attend our events. At the moment there are about 1,500 email addresses registered in our system.

How often do you send event alerts?

We send event alerts once a week. You will also receive emails with valuable content from our business blog.

Who manages data for Edinburgh Connections?

Edinburgh Connections Ltd is responsible for data management. Registration number in Companies House: SC622587.

What is Edinburgh Connections?

Edinburgh Connections was founded in 2019 to support like-minded business entrepreneurs with their ambition of growing business via professional networking. We are a supportive business Community.
Great event, positive atmosphere and good mix of professionals. Highly recommended. Constructions & Property Connections Attendee
Great event, lovely friendly people, superb venue, and well organised. Well worth coming even if I don't meet customers I can directly work with. People know people who might need me. Coffee Connections Attendee
A very thought-provoking agenda at a wonderful venue Edinburgh Business Show Delegate