Edinburgh Connections Onboarding Process for New Members
Our network attracts diverse entrepreneurs from a variety of backgrounds. Therefore, when you join Edinburgh Connections we take you through our onboarding process to make sure that we understand your goals and what you want to achieve with us. Just as importantly, this gives you the opportunity to understand how we work and how you can make the most of your key membership benefits. The process takes about 4 weeks.
What is Edinburgh Connections Networking ROI?
While some of our members made their membership fee back quickly, after just 1 or 2 events, you should be prepared to engage with our Community for 12-24 months before you judge your ROI. Be prepare to farm, not hunt. On average it takes around 11 points of contacts to build a good business relationship and make a sale.
This article explains how we introduce new members to our network to help you plant the seeds.
Step 1: Business Directory Set up
Once you join Edinburgh Connections, you will be assigned to Anna. She will take your business details for publication in our Edinburgh Business Directory. We will ask you to provide details such as: description of your business, contact details to be displayed in directory, key contacts in your business and their role. Your business profile will be ready in max 2 business days and you will receive a welcome message from Anna.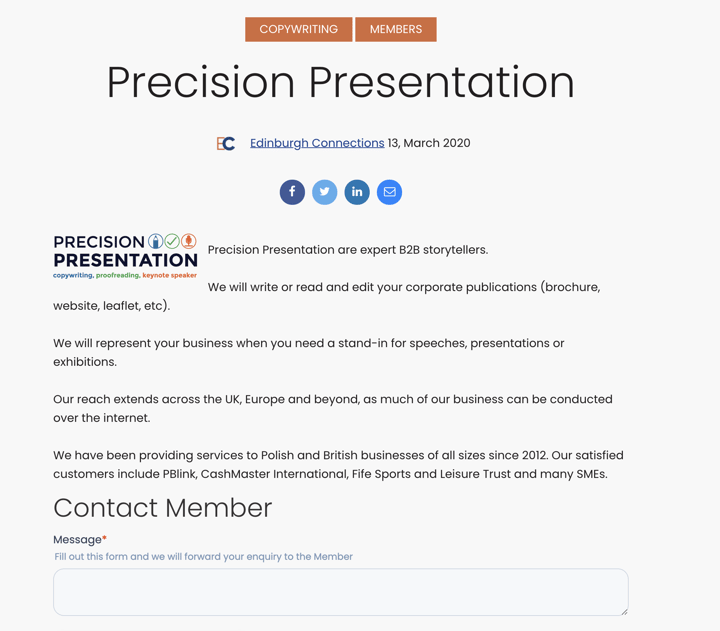 Step 2 – Access key tools available for members
Following on, you will receive a sequence of educational emails from us so you can understand how to access key tools available for members. This includes access to delegates list, publishing PR, and booking for our events. At this stage you will also be given access to Membership Alert and we will welcome you onboard using our Social Media: Linkedin and Facebook.
Step 3 – Arranging Introduction Call
Anna will arrange an introduction call with you and your team. This 30-min call will allow us to collect information about your goals and challenges and will help us to matchmake you with our other members. We will also ask you about your ideal referral, so we can refer business to you. In order for us to engage you in the event we will ask you to specify what expertise you can provide and your availability over the next 2 months. This will help us to allocate you in our next event run.
Step 4 – Welcoming you in Edinburgh Connections Newsletter
You will be welcomed in the newsletter sent to our database of 1.5k+ business owners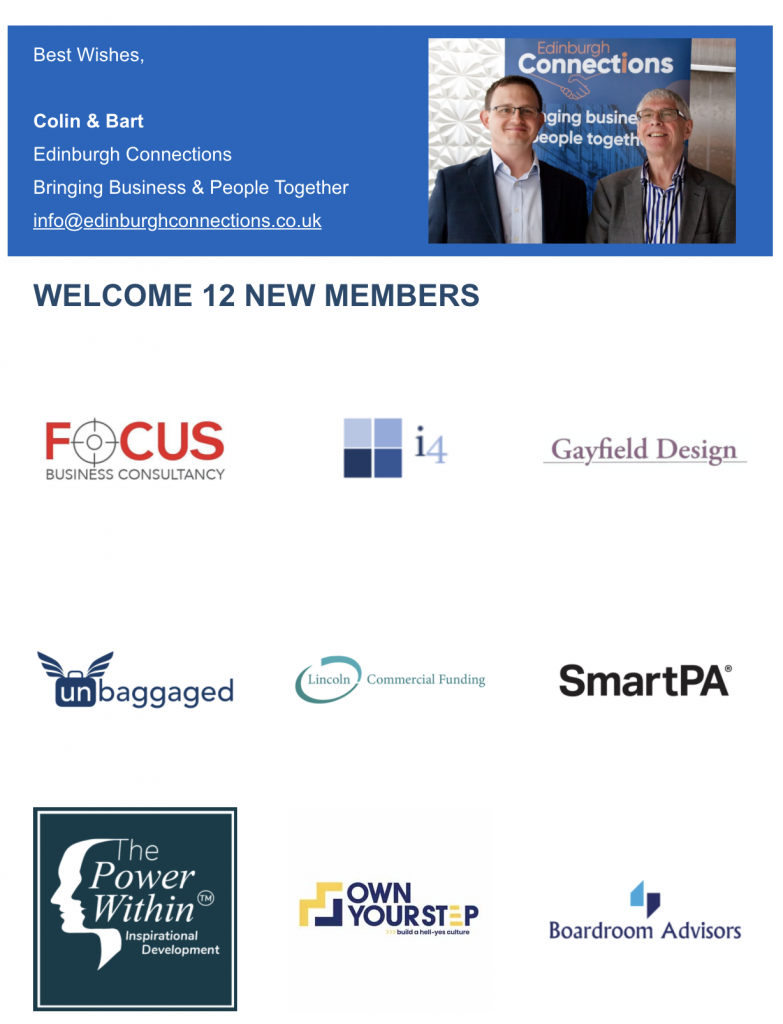 Step 5 – Engaging you in the Edinburgh Networking Events
You will be invited to a number of events. Remember to join our event asap so we can welcome you and introduce you to our members and guests.
Remember, we are a Business Community. Don't be afraid to ask questions or make suggestions.
Pro Tips When you Join
Make sure you have your networking goal set

Give us precise information about what type of expertise you can provide

Come to our event asap so we can introduce you